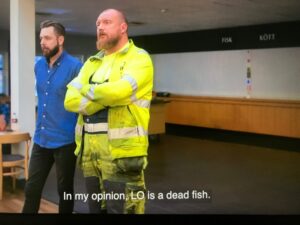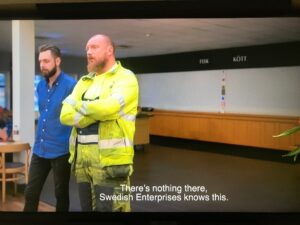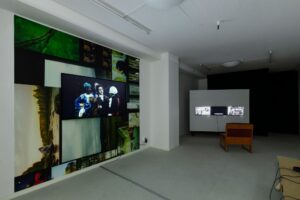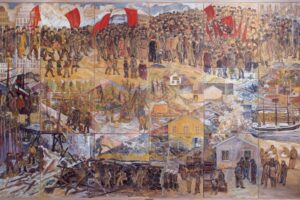 Handsworth Songs (Black Audio Film Collective, John Akomfrah, 1986):
Bodies of Care. Emma Dominguez, Macarena Dusant, Sonia Sagan, and Sarasvati Shrestha in conversation on exhibition Mami: Ama: Mothers at Botkyrka Konsthall:
Ports and Logistics Struggles. Conversation organized with magazine Arbetaren between Martin Berg (chairman Swedish Dockworkers Union), Papis Ndiaye (S.I. Cobas Italy), Alessandra Mincone (journalist at Napoli Monitor), Mathias Wåg (activist and writer), moderated by Julia Lindblom (journalist at Arbetaren) and Benj Gerdes (artist and filmmaker):
Artists: Bini Adamczak, Diana Agunbiade-Kolawole, Black Audio Film Collective (John Akomfrah), Henrik Andersson, Problem Collective, Chto Delat, Harun Farocki, Dora García, Benj Gerdes, Salad Hilowle, Sam Hultin, Ingela Johansson, Hanni Kamaly, Patrick Kretschek, Mattin, Minus Miele, Ruben Nilson, Behzad Khosravi Noori, Gudrun Olsson, Oliver Ressler, Bella Rune, Katarina Pirak Sikku, Iris Smeds, Hito Steyerl, Margareta Ståhl, Hannah Wiker Wikström.
*The exhibition borrows its title from the militant feminist collective Precarias a la deriva (Precarious women adrift) 2004. The collective was formed in Madrid in 2002 in reaction to the male-dominated unions that were organising a general strike in reaction to labour law reforms in Spain. Precarias a la deriva wanted to highlight the challenges many face in participating in strikes, due to a reality of precarious employment and a higher burden of reproductive work. They wanted to create a collective situated narrative on the general tendency toward the precarization of life they were experiencing and the ways to revolt and resist in our everyday lives. – Precarias a la deriva, Una huelga de mucho cuidado (Cuatro hipótesis), 2004. 
A Careful Strike*
Curated by Michele Masucci
Mint
ABF-Huset, Sveavägen 41, Stockholm
7 Oct -11 Dec 2021