(English below)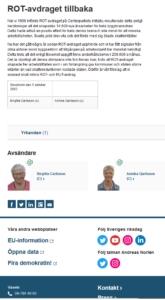 Original motion (Swedish): here
Partial English translation:
"Establish tax deduction RUT = a deduction for domestic services
A demand made by Center Party women in previous parliamentary motions regards the introduction of the RUT deduction. R is for rengöring, U is for underhåll, and T is for tvätt (cleaning, maintenance, and washing), and everything files under the notion of domestic services. This deduction is something we women mean is especially valuable. We live in a society with a high tempo. We are supposed to manage, all at the same time, to be professional and have a career, to be a good wofe. a good mother or grandmother, have a well-kept home and cook good and nutritious food, take care of old parents, parttake in various activities and not least be politically active to affect the development of society. Women live with a bunch of obligations or "musts" and this, we believe, affects our health in a negative way. Not having the time, the energy or the ability to cope with what we find valuable to a good quality of life produces feelings of guilt and powerlessness."
A Threefold Critique of Tax Deductions RUT and ROT
(Division of Labor, Commodification, Regressive Distribution)
Rut-avdrag is a tax deduction for domestic services in Sweden. It was implemented in 2007, and has been modified continuously. Rut is an acronym for rengöring, underhåll, and tvätt (cleaning, maintenance, and washing), but it is also a Swedish version of the feminine forename Ruth.
Rot-avdrag is a tax deduction for construction services on existing, privately owned buildings in Sweden. Rot is an acronym for renovering, ombyggnad, and tillbyggnad (renovation, reconstruction, and additional construction). The tax deduction is part of a larger and older stimulation program called ROT-programmet. The Swedish word "rot" means root.